Holy Innocents Catholic Church!
Welcome!
"Whatever drew you here today, I hope that you will feel the presence of the Lord in this Church and in this community of faith." Father Johnson
Although we are only able to have limited parish activities now, we never stop being the Church and we all called to live our faith at home and in whatever circumstances we face. We encourage you to check out the resources below to help nourish your faith during the current stay at home/stay healthy orders. Archbishop Etienne's suspension of the obligation to attend Sunday Mass continues. Let us pray for one another and encourage one another in faith.
Indoor Mass Reservations September 27, 2020
(Reservation site closes at midnight the night before mass)
September 25, 2020
Dear friends in Christ,
With everything going on in our world in the past few months, the challenge of covid, unemployment, egregious incidents of racism, natural disasters, riots in our streets, degradation in our politics and the stresses facing our families, it occurred to me, that in the face of all this we need to cultivate virtue, in ourselves, in our families, and in our communities. Virtue comes from the Latin word virtus and connotes strength and character. Certainly, to face all these things well, we need strength and character. Another way to define virtue, is that it is the habit of doing the good. We need and indeed our whole society needs this kind of strength so that we can build one another up and not tear one another down.
The Dominican Sisters of St. Cecelia have developed a wonderful three-year curriculum encouraging virtues. Over the next three years, we are going to be adapting it and integrating it into our faith formation programs across all ages so that we can all learn together. Hopefully, through this process we will be able to grow in virtue and goodness. The world needs us to be kind of lamp that shines this kind of goodness, Christ's goodness and love upon our world.
It is helpful to understand that there are different kinds of virtues. There are theological virtues: FAITH, HOPE, and CHARITY which are given to us by God at baptism. These give life to the moral virtues by allowing God to dwell within us and by drawing us to be virtuous out of love for Him. They lead us directly to God.
There are human/moral virtues which are acquired by education, deliberate acts, and persevering effort. They are purified and elevated by grace. Four of these virtues place a pivotal role and so are called the cardinal virtues: prudence, justice, fortitude, and temperance. They lead us to God through other things that are good for us.
There are also seven gifts of the Holy Spirit (wisdom, understanding, counsel, fortitude, knowledge, piety, and fear of the Lord) which are poured out by the Holy Spirit in the sacrament of Confirmation. These gifts are different from the virtues because they are given directly by God rather than acquired by repeated good actions. The gifts of the Holy Spirit complete and perfect all the virtues by making us docile to the promptings of the Holy Spirit. (from definitions in Faith in Practice)
We begin in October with the virtue of Faith. Once a month, I will devote one of these columns to the virtue of the month and we will be sending home other virtual and print resources to help us grow together. This year we will cultivate the virtues of faith, reverence, stewardship, generosity, gratitude, honesty, mercy, justice, and zeal. Let us pray that the Holy Spirt may help us to grow in virtue and holiness throughout this year. You can register your household here to be included in this year's program.
One more important thing…. Parents, did you know that that we now have a new confirmation age for the Archdiocese of Seattle. It is now 7th Grade. This was done so that we could make sure that confirmation does not get mixed up with the busyness of high school and so that confirmation was more understood as an unearned gift. So please know that all youth, 7th Grade through high school are now eligible to receive the Sacrament of Confirmation. If you have any children 7th grade and up who have not received the sacrament, they should enroll now in our confirmation preparation program. Especially any of your teens in high school should get confirmed this year. Please sign up online today: Here. Sessions begin October 11th!
Blessings on your week!
Fr. Johnson
Daily Mass may now be attended in person
Tuesday, Thursday and Friday at 9am
Wednesdays at 6pm
These Masses will also be livestreamed.
Perfect Contrition and Spiritual Communion Prayers
Vigil Mass 5pm Saturday September 26 from St.Jude
Perfect Contrition and Spiritual Communion Prayers
8am Mass from Holy Innocents --Sunday September 27
Perfect Contrition and Spiritual Communion Prayers
All our archived streamed events are available on Vimeo by searching for "St. Jude and Holy Innocents" or by clicking here.
The Parish Office is now Closed
If you need anything, you can call the parish office and leave a message and one of us will get back to you. If you have a sacramental or pastoral need, please email one of the staff or you may email me directly at frjohnson@stjude-redmond.org.
RESOURCES TO GROW IN FAITH
Sunday Gospel Reflections by Bishop Mueggenborg:
| | | |
| --- | --- | --- |
| | | |
| Ministry Schedule | Events Calendar | Maps & Directions |
Indoor Mass 8am Sunday (By Reservation only)
Indoor Mass 10:30 am Sunday (By Reservation only)
Livestream Mass 10:30am Sunday
http://Sept27-10:30amMass.rsvpify.com
Daily Mass
In person at Holy Innocents Tue, Thur and Fri at 9am and Wed at 6pm
These Masses will be livestreamed
Church Open Hours for Private Prayer:
Tue: 9:30am - 11:30am

Thur: 9:30am - 11:30am

Fri: 6pm - 8pm
Drive-Up Confessions
Fridays 6-6:45pm in the upper parkinglot
A special THANK YOU to all who are sending in Sunday envelopes or giving online. Your support is especially needed at this time to support our parish and maintain our ministries! We are grateful for all you do for Holy Innocents.Click the image below to make a gift to the paish:

Click here to make a pledge to the Annual Catholic Appeal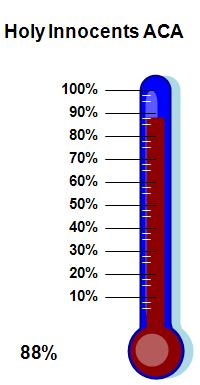 Catholic News & Perspective
Pantry Donations

Thank you for all the donations! Anything is helpful!
We are taking donations on Monday Mornings at the Church between 9am - 12noon
Thank you
The Food Pantry will not accept any household items or clothing until further notice.