Holy Innocents Catholic Church!
Welcome!
"Whatever drew you here today, I hope that you will feel the presence of the Lord in this Church and in this community of faith." Father Johnson
Although we are only able to have limited parish activities now, we never stop being the Church and we all called to live our faith at home and in whatever circumstances we face. We encourage you to check out the resources below to help nourish your faith during the current stay at home/stay healthy orders. Archbishop Etienne's suspension of the obligation to attend Sunday Mass continues. Let us pray for one another and encourage one another in faith.
Indoor Mass Reservations August 9, 2020
Old Habits Die Hard
My dear friends,
There was a young man, very well off in life. He met a wise teacher and asked, "Teacher, what should I do to have everlasting life?" The teacher looked at him with love and said, "You have done well, but there is one thing you have not done." You probably can guess what this "one thing" was that the rich young man lacked.
This was an encounter Jesus had with a rich young man seeking eternal life – a life with God. Our Lord said to the young man, "Go, sell what you have, and give to the poor and you will have treasure in heaven; then come, follow me." (Mark 10:21). The young man went away sad because he had many possessions. We can see that the young man cannot let go of his comfortable lifestyle to follow our Lord. He may also have old habits that he finds difficult to let go of as well since he suspects that following our Lord requires a radical change which many of Jesus' followers find uncomfortable and hard.
I find this really true in my recent transition to Saint Jude and Holy Innocents from All Saint, Puyallup and Saint Martin of Tours, Fife. Spending my first two years as a priest at these two parishes trained me to be the priest I am now. However, moving to Saint Jude and Holy Innocents has introduced me to different ways of doing the same ministry, most of these are not seen with our naked eyes. My old habits continue to make their presence felt in the way I practice ministry, and these habits may cause misunderstanding or uncomfortableness in those I work with. For instance, I am not familiar with livestream Masses and now I livestream Masses as often as I eat rice. Therefore, I need to readjust these old habits and hope to learn from Fr. Johnson, the staffs, and many of you. Another example that comes to mind is the fact that I am a visual learner, and it is a challenge not able to see your faces during COVID-19. I find it a challenge to connect with many of you. I pray that God gives me strength and allows me to see His presence in a new home – St. Jude and Holy Innocents.
A question I would like you to ponder for a few minutes this week is what old habit(s) do you need to let go in order to follow Jesus?
I pray that our Blessed Mother intercedes for us so that we may be attentive to God's prompting in our lives.
Prayers and Blessing,
Fr. Anh

Daily Mass Mon, Wed-Fri at 9am
Perfect Contrition and Spiritual Communion Prayers
Vigil Mass 5pm Saturday August 1at from St.Jude Perfect Contrition and Spiritual Communion Prayers
9am Mass from Holy Innocents --Sunday August 2
Perfect Contrition and Spiritual Communion Prayers
All our archived streamed events are available on Vimeo by searching for "St. Jude and Holy Innocents" or by clicking here.
The Parish Office is now Closed
If you need anything, you can call the parish office and leave a message and one of us will get back to you. If you have a sacramental or pastoral need, please email one of the staff or you may email me directly at frjohnson@stjude-redmond.org.
RESOURCES TO GROW IN FAITH
Sunday Gospel Reflections by Bishop Mueggenborg:
Holy Innocents Food Pantry will be open with new parameters. Please visit the outreach page for more details https://www.holyinn.org/85
| | | |
| --- | --- | --- |
| Vision Statement | Holy Innocents Staff | Parish History |
Indoor Mass 9am Sunday (By Reservation only)
http://August9-9am.rsvpify.com
Livestream Mass 9am Sunday
Indoor Mass 11 am Sunday (By Reservation only)
http://August9-11am.rsvpify.com
Church Open Hours for Private Prayer:
Tue: 9:30am - 11:30am

Thur: 9:30am - 11:30am

Fri: 6pm - 8pm
Drive-Up Confessions
Fridays 6-6:45pm in the upper parkinglot
A special THANK YOU to all who are sending in Sunday envelopes or giving online. Your support is especially needed at this time to support our parish and maintain our ministries! We are grateful for all you do for Holy Innocents.Click the image below to make a gift to the paish:

Click here to make a pledge to the Annual Catholic Appeal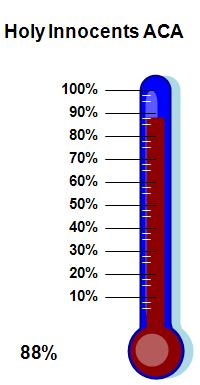 Catholic News & Perspective
Pantry Donations

Thank you for all the donations! Anything is helpful!
We are taking donations on Monday Mornings at the Church between 9am - 12noon

You can also drop gift cards into the mailbox located outside the lower doors of the church on the West side of the building at any time, just please raise the flag so we know they are there.
Thank you
The Food Pantry will not accept any household items or clothing until further notice.